Brisbane Cavoodles

Welcome to Brisbane Cavoodles:
​Your Top Choice for Ethical and Quality Cavoodle Puppies!
Are you searching for the perfect Cavoodle companion in Brisbane? Look no further! Brisbane Cavoodles is the premier destination for those seeking a reputable and dedicated breeder. Our commitment to excellence, ethical practices, and exceptional breeding program sets us apart, making us the top choice for Cavoodle enthusiasts like you.
Ethical Breeder Brisbane: At Brisbane Cavoodles, we take pride in being an ethical breeder. We adhere to the highest standards of responsible breeding practices, ensuring the health and well-being of our dogs and their offspring. Our dedication to ethical breeding shines through in the impeccable care we provide to each and every puppy.
Quality Cavoodle Puppies Brisbane: Quality is at the core of everything we do. Our breeding program, which has been honed over years of experience, is second to none. We have meticulously crafted a curriculum that combines the best practices from Puppy Culture, and Empowered Breeder, guaranteeing that our Cavoodle puppies receive the utmost care and attention. From early neurological stimulation to exposure to different scents, textures, and sounds, our puppies are immersed in a world that fosters their physical, emotional, and cognitive development.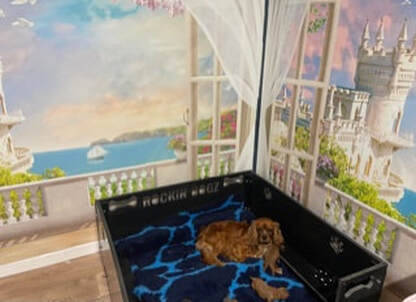 Both Cam & I have grown up around animals. Cam's aunty is also a breeder but of miniature goats. My father had a registered kennel when I was growing up, so we have always been around dogs.

Angie)- I am certified in dog care, canine biology, breeding science, genetics and defects, anatomy, embryology & fetal development, nutrition and preventative health, illnesses and treatments, cleaning/ disinfecting and biosecurity, grooming, dog cpr and first aid. I also have my humans cpr and first aid certificates as I cared for people before changing to puppies. I have completed dog breeding master courses as well as doing food safety as an added bonus. I continue to update my knowledge and skills on a regular basis; in return keeping my dogs as safe as possible.

​Our curriculum is designed to ensure that each puppy reaches their full potential and becomes a well-rounded and confident companion. We tailor our program to meet the specific needs and wants of our puppies, ensuring that they receive the individualized attention they deserve. By incorporating the most effective training and socialization techniques, we set the stage for a more lifetime of happiness and harmony with their new families.

Brisbane Cavoodle Breeder Reviews: Don't just take our word for it - our satisfied customers speak volumes about their positive experiences with Brisbane Cavoodles. Check out our Google reviews to read heartfelt testimonials from our happy puppy families. Their words highlight the exceptional quality of our puppies, the personalized care we provide, and the success of our unique curriculum. We are proud to have earned a reputation as one of the leading Cavoodle breeders in Brisbane. ​Health-Tested Cavoodle Puppies Brisbane: When it comes to the health of our puppies, we leave no stone unturned. Our adult dogs undergo specialized examinations by experts in heart and eye health. In addition, we conduct thorough DNA testing through trusted providers like ORIVET and Embark. This ensures that our Cavoodle puppies are free from genetic conditions, providing you with peace of mind and a healthy furry friend for life.Brisbane Cavoodle Community: Join our vibrant community of Cavoodle lovers! When you choose Brisbane Cavoodles, you become part of a network of passionate individuals who share their experiences, tips, and support. We believe in building lasting relationships with our puppy families and fostering a sense of community that extends beyond the adoption process.​Brisbane Cavoodles Waitlist: We understand the excitement of welcoming a new puppy into your home. To ensure you have the opportunity to bring home your dream Cavoodle, we offer a convenient waitlist. Fill out our online form to express your interest in a particular litter and secure your place in line.Remember, good things are worth waiting for!​Explore our Website: Take a virtual tour of our website to discover more about Brisbane Cavoodles. Get to know our dedicated family, Cam and Angie, and learn about our beautiful 10-acre property where our dogs enjoy a life filled with love and freedom. Browse our photo gallery and see the adorable faces of our past litters. With Brisbane Cavoodles, you can expect nothing less than excellence.When you choose Brisbane Cavoodles, you are choosing an highly regarded breeder. Our commitment to ethical breeding, quality puppies, and outstanding customer satisfaction sets us apart from the rest. Get ready to welcome a loving and loyal Cavoodle companion into your home. Contact us​By using the hashtag #BrisbaneCavoodlesCuties, our puppy families are showcasing the undeniable charm and irresistible appeal of our beloved Cavoodles. It's a testament to the careful selection and meticulous breeding practices that go into creating these little bundles of cuteness.Each Cavoodle that carries the #BrisbaneCavoodlesCuties tag represents the culmination of our dedication, passion, and unwavering commitment to producing top-quality puppies. It symbolises the love and care that we pour into every aspect of our breeding program, from health testing to socialisation, ensuring that each puppy is truly a cutie in every sense of the word.We are deeply grateful to our puppy families for embracing this hashtag and sharing their adorable photos and heartwarming stories. It not only brings smiles to our faces but also serves as a testament to the joy and happiness that our Cavoodles bring into people's lives.So, let's continue to celebrate the #BrisbaneCavoodlesCuties, those irresistible, fluffy bundles of joy that light up our lives and the lives of their forever families. Together, let's spread the love and showcase the endless cuteness that our Cavoodles bring into the world.​FUN FACT........ Did you know that the average dog is happier than the average person.

Angie & Cam


Say Hi to Cinnamon, a fashionista we bred in one of our past litters, Isn't she gorgeous.